18th January, 2020 marked the 24th day of the twelve-lunar month, also known as the Little New Year in South of China. In order to celebrate the day, the University organized several activities to mark the Chinese New Year 2020.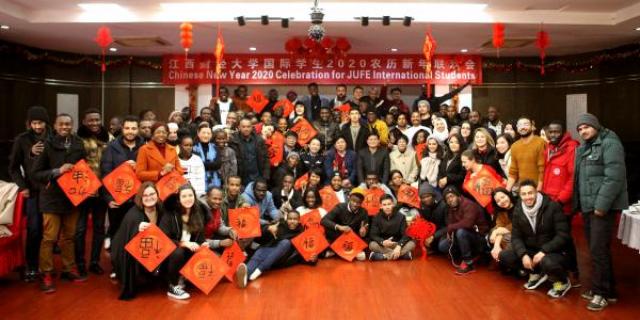 Addressing over 120 international students, who gathered at the University's hotel restaurant for the celebrations, Vice president for the University, Professor Wang Xiaoping wished the students a happy new year and expressed satisfaction with the level of hard work and dedication displayed by the international students.
He further said the New Year brings new opportunities to learn more of the Chinese culture.'The Little Chinese New Year is a traditional Chinese festival and the beginning of the New Year. The date of the Little Chinese New Year is different in northern and southern part of China. I hope the celebrations will bring happiness among you since you are far away from home. We are delighted to teach you some of our Chinese traditions so that you understand our way of life.' Explained the Vice President.
Commenting on the celebrations and student life at JUFE, a postgraduate international student from Benin, Hounye, expressed his gratitude to the University Administration for the support they give to international students.
'On behalf of my fellow international students, I would like to express gratitude to the University's leadership for the love and care they continue to show us. This is my third year here at JUFE and I must say I am impressed with the dedication and support given to me and my fellow students from all the staff and lecturers here.'
Adding on to the comments was Imane an undergraduate international student from Morocco. Imane who has stayed in China for two years now, acknowledged that came her real journey and experience of China started when she joined JUFE. Ever since I came here, I have broaden my horizons and better understand the Chinese culture, this is the first year to celebrate the Chinese New Year. It is great to be with you she said. She hoped everyone embraces the New Year with confidence, hope and courage.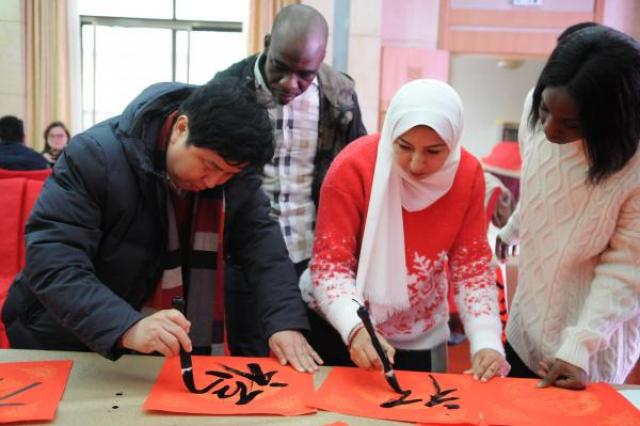 Activities marking the celebrations of the Chinese New year included traditional customs of where people sweep the dust, write the character Fu, paste couplets, cut their hair and making dumplings in the hope of starting a new life in the New Year.
One of the International Students Hasib was quoted saying, I think it's very interesting to write Chinese characters with a brush. I learned that 'Fu' is a beautiful Chinese character, representing happiness and satisfaction.
​
Games were also part of the celebrations including the clipping peanuts with chopsticks game where students had to quickly put peanuts into a bowl within a minute.
(reprinted article from JUFE OES/ SCHOOL OF INTERNATIONAL TRADE AND ECONOMICS)