China's Jiangxi University of Finance and Economics (JUFE) in Nanchang has successfully held the 6th International Cultural Festival. The theme of this year's International Cultural Festival was Reunion on Campus.
On the afternoon of November 14, the 6th International Cultural Festival was successfully held in the Rising Plaza in the North District of Jiaoqiao Garden of the University.
This International Cultural Festival is hosted by Jiangxi University of Finance and Economics, undertaken by the Party Committee Media Department, Student Affairs Department (office), Youth League Committee, International College, Overseas Education College, International Economics and Trade College, JUFE's Photographic Society, and Chinese Traditional Culture Society, Co-organized by International Student Volunteers Association.
Ambassador Anderson N. Maidubike, Consul General of Nigeria in Shanghai, and Ms. Zainab Joy Momodu, Director of the Office of Consular Education, were invited to attend this international cultural festival. University President Prof. Dr. Deng Hui, Heads and representatives of relevant departments and colleges of the University attended the event.
Dr. Deng Hui and Ambassador Anderson N. Maidubike unveiled the Study in JUFE theme photography exhibition. Ye Weihua, Dean of the Overseas Education College, presented awards to volunteers who had performed outstandingly during the fight against the Coronavirus pandemic.
Dr. Deng Hui in his speech said that the institution highly appreciates the activities of international students. He thanked those who helped each other with the school during the pandemic and worked together to tackle the situation.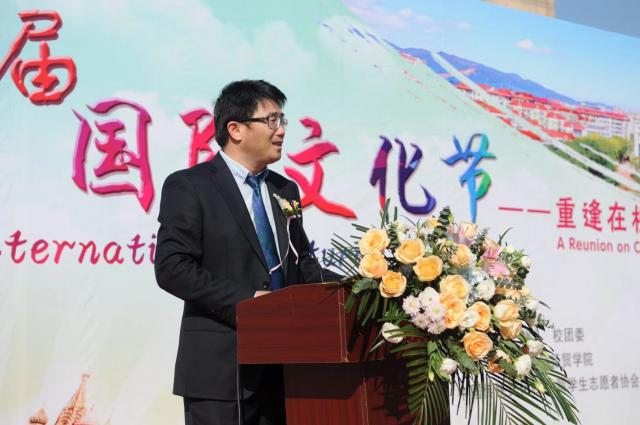 He also stressed the role of international cultural festivals in cultural exchanges.
The Nigerian Ambassador Maidubaik said China-Africa friendship has a long history and Sino-African exchanges and cooperation are deepening. In this context, the session of the International Cultural Festival is a beautiful symbol of Sino-African cooperation and openness, he added.
He hoped that all international students, especially African ones, would study hard and contribute to the further development of Sino-African friendship by shouldering their responsibilities while studying in China.
Students from different countries showcase their country's culture and local customs through traditional costumes, ethnic crafts, game activities, and special cooking. The festival had a Chinese culture exhibition stall, in addition to the foreign stalls, on both sides of the square. There was also an exhibition of paintings at the Rising Square in the northern part of Bachiao Garden.
Fourteen countries including Bangladesh, China, Morocco, Benin, Tanzania, Nigeria, Equatorial Guinea, Guinea, Ghana, Namibia, Liberia, Zimbabwe, Congo, Ethiopia, participated in the festival.
Over 2,000 teachers and students took part in the International Cultural Festival. Moreover, about 50,000 people enjoyed the festival online.
(Reprinted article from JUFE OES/ SCHOOL OF INTERNATIONAL TRADE AND ECONOMICS)